That's a wrap! theSpaceUK ends the 2023 Edinburgh Festival Fringe in style
October 31st 2023 at 3:44pm
With 423 shows, 3408 artists, and 190,000 tickets, theSpaceUK has helped new artists and audiences experience the Fringe
theSpaceUK is one of the largest venues at the Edinburgh Festival Fringe with 19 theatres across 6 venues. Every genre in the Fringe programme is represented and there's a strong focus on new-writing and new companies with a wide-range of support provided for artists bringing work to the Fringe for the first time.

190,000 tickets were issued for shows at theSpaceUK this year, an 22% increase on 2022, demonstrating both the resilience of the Edinburgh Festival Fringe and the strong platform of shows at theSpaceUK. This year saw 423 shows featuring 3408 artists at theSpaceUK representing over 40 different countries. Each day of the 2023 Fringe saw an average of over 8000 audience members watching shows at theSpaceUK with an an average of 60% of seats filled per show.

Artists at theSpaceUK were recognised for their work including a a second consecutive Fringe First for Xhloe and Natasha as part of theSpaceUK's artists development programmewith their brand new show What If They Ate the Baby. A Fringe First award was also awarded to Hong Kong artist Kasen Tsui for A Funeral for My Friend Who Is Still Alive.

Before the Drugs Kick In (Mike Lemme / Maria DeCotis) was nominated for both the BBC Popcorn writing award and the Mental Health Foundation Award, whilst another Hong Kong based show, Candide (Ima Collab), was runner-up in the Asian Arts Award for Best Direction.

theSpaceUK's programme saw critical acclaim with numerous shows picking up multiple five-star reviews. Why I Stuck a Flare Up My Arse for England (Roxy Dog) was a one-hander masterpiece with Alex Hall making his acting debut and played to rapturous audiences. The Ballad of Truman Capote (Northern Line Productions) was a five-star smash-hit featuring on BBC Radio 4's Front Row, The Times, The Telegraph, The Guardian and numerous other national press.

Press and media were instrumental in helping artists achieve their success with over 1000 reviews published during the Fringe. An array of reviewing organisations from across both the globe and different media helped ensure that artists were supported at theSpaceUK. We offer them our eternal gratitude.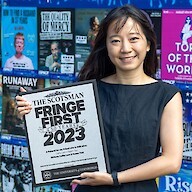 Charles Pamment, Artistic Director of the SpaceUK said: "As we end our 2023 festival we are hugely proud to have hosted so many high calibre shows as well as returning to pre covid audience levels. International participation was 'back' as was overseas audiences and we are very pleased to be reporting record ticket sales across our venues.

Creatively, it was fabulous to see so many of our shows receiving 4 and 5 stars awards and two fringe first awards across our platform made this a very special year indeed.

None of this could happen without the continued passion and commitment of participation from creatives brining shows to Edinburgh, the future holds various challenges but we close our 2023 fringe offering all who made this happen a huge round of applause. See you in 2024!"