A glittering line-up as theSpaceUK announces its full programme for the 2023 Fringe
June 16th 2023 at 4:34pm
theSpaceUK is announcing the full 2023 programme with over 390 shows on sale at this year's Edinburgh Festival Fringe. The 2023 line-up features the return of Fringe favourites along with a packed programme of new writing and new companies.
theSpaceUK at the Edinburgh Fringe runs from the 4 – 27 August 2023 across 19 venues in 5 sites including: theSpace@Surgeons' Hall, theSpace@Symposium Hall, theSpace on the Mile, theSpaceTriplex, the Space@Venue45.

Theatre Highlights
From his cell in the early hours of the morning, Dr Harold Shipman records a confessional tape as he prepares to end his life in The Quality of Mercy, written and performed by Edwin Flay, the grandson of Shipman victim Renee Lacey. Winner of the 2022 Fringe First award after performing for only one week, And Then the Rodeo Burned Down, rides back into town for the 2023 Fringe. In Ay Up, Hitler! Hitler and his cronies manage to escape Germany and go into hiding in the last place anyone would think to look... Yorkshire!

Based on real events from the 1980s, The Good Dad is a haunting family drama by multi-award winning playwright Gail Louw - this three-time Off West End Award-nominated solo show is presented in support of the charity Victim Support.

Lights. Camera. Murder! Two stars are killed in impossible locked rooms; but who's behind the Hollywood homicides? Award-winning mystery maestros Highly Suspect return with Murder at the Movies along with A Murder on the Disorient Express. Winner of the Broadway Baby Bobby Award, Letter to Boddah is a darkly comic exploration of the lives of young working class men in austerity Britain.

What if the great and tragic story of King Lear were to be told through the eyes of his closest companion? In this award-winning, one-woman tour-de-force, Nearly Lear tells a very personal story that is by turns poignant, mischievous, tragic, and hilarious. Comedy, theatre and therapy for all - Before the Drugs Kick features Maria DeCotis who's recent work has been shared by Stephen Colbert, Lin-Manuel Miranda, Ben Stiller, Natasha Lyonne, and many more.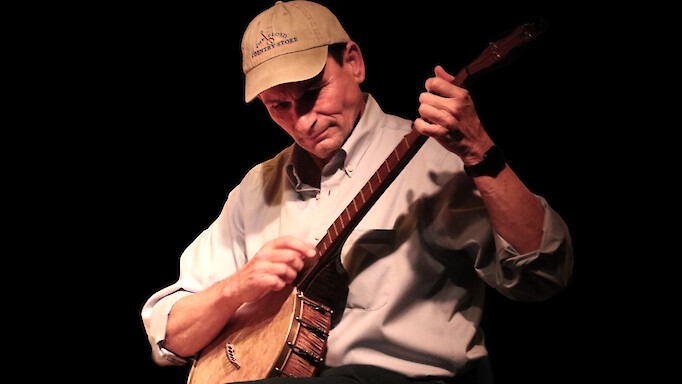 A Night With Me, Myself and Bipolar Brenda is a one-woman stage show based on the critically acclaimed, Amazon best-selling memoir, by Natasha Rea and created in association with Bipolar UK. Written by Conan Doyle expert David Stuart Davies, Sherlock Holmes: The Last Act shows the man behind the myth, exposing the great detective's fears and weaknesses The highly awarded, inspirational true story, Tomatoes Tried to Kill Me but Banjos Saved My Life returns to Edinburgh with added content for 2023!

Cabaret Highlights
Cult-hit event Solve Along A Murder She Wrote comes to Edinburgh with an interactive screening of the classic Murder, She Wrote episode, Sing a Song of Murder. The critically acclaimed show, hosted by super-fan Tim Benzie, has played sell-out shows across the UK and Australia.

Magic, storytelling and laughter: Young and Moxie features the incredible talents of Cameron Young, one of Scotland's leading magicians, and Moxie, the talented offspring of Penn Jillette from the iconic duo Penn & Teller. Vladiqueer is vampire, but he's not always been proud of it. High School Fangsical is the story of how Vlad found the strength to be who he is, through the power of High School Musical.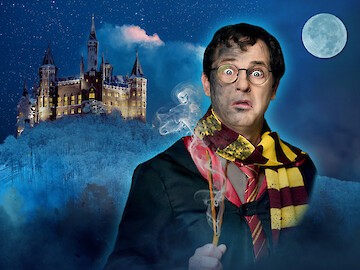 Magic Award Adelaide Fringe 2023, 2021 and 2019 and featuring real live wizard magic! Experience the wonder of world-class wizardry in Barry Potter and the Magic of Wizardry. An autobiographical, solo rock musical about growing up in the entertainment industry Frizz! features original rock music and touching stories, all told with warmth and humour.

Musical Highlights
After This Plane has Landed is a brand-new musical dramedy based on the real-life experiences of Jill Morrell and John McCarthy. From the company that brought you Six, Cambridge University Musical Theatre Society are back with Palindrome, an uplifting new musical set in a not-so-distant future.

Irrepressible is a fresh new musical that tells the story of two women, 200 years apart, on either side of the voracious press machine. Written in pithy verse set to an energetic score, the show centres on the life of the world's first celebrity, Emma Hamilton. Very loosely based on Les Misérables, Les Millénniables is a pop parody about the plight of the generation deemed "millennials".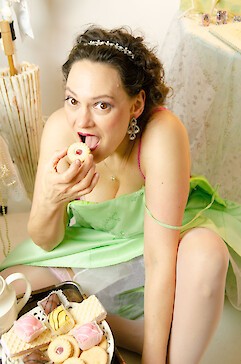 An all-sung, one-woman comedy that reveals why Kay's shut herself in… and what it'll take to get her out. My Life Online, is by Internationally Renowned Composer Scott Eyerly. The Baroness narrates her eventful riches-to-rags life story in The Opera Diva's Boudoir with the help of opera and operetta arias, Lieder, and maybe the odd song from a musical.
Comedy Highlights
Natalie Perlin (New York Comedy Festival Comic To Watch; New York's Funniest Stand-Up; Carolines On Broadway Breakout Artist) stars in an uproarious evening of glamour and gallows humour in Attack of the 36 Triple-G Woman. Wake up to the World Premiere of this raw, funny, and poignant solo show from a narcoleptic comedian, Awake and Narcoleptic with Sarah Albritton sheds light on the challenges of living with a misunderstood disorder.

He who makes a bee-ast of himself gets rid of the pain of bee-ing a man. Stephen Catling brings you his new surrealist escapade, droning on about work as an autistic person and dealing with the struggles that this brings in Beehavioural Problems: Something Something Autism. Using tried and tested material from several shows the Cambridge Footlights present to you the cream of their comic crop: a compilation of wide-ranging sketch styles to satisfy everyone in Footlights: Leftovers.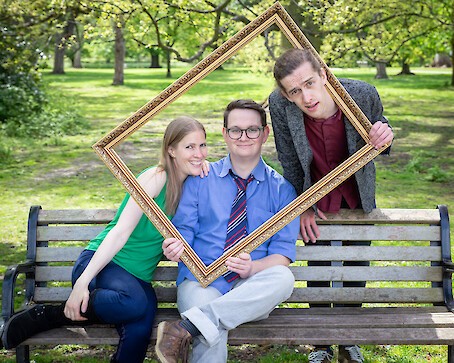 An uplifting reminder that no matter how bad things may be, if you've got kids, they can always get worse. Following sold-out shows at the Adelaide Fringe, Vida Slayman in Comedy of Terrors is coming to Edinburgh. The one with the improvised comedy! MATES: The Improvised 90s Sitcom is inspired by classic sitcoms such as Seinfeld, Frasier and Friends, could this show BE any funnier?

Children's Highlights
Music, games and colourful clowns collide in The Bubblegum Gumdrop Show with physical comedy, games, audience participation and original music, this is the perfect show for children with the wiggles and the giggles.

Join Professor Simon Rees for Not a Load of Bumfuzzle and Faradiddle, a family-friendly, interactive show exploring the creative and imaginative world of science. Roald Dahl's famous tale of the egregious and revolting Mr and Mrs Twit comes to life as Zenith Youth Theatre Company lead us through pernicious tales of deceit and wickedness.

A wonderful adventure in Neverland awaits in Peter Pan - join Peter, Wendy, John and Michael as they battle the Pirates, Mermaids and Native Indians with help from the Lost Boys and a sprinkle of fairy-dust from a very feisty fairy. This new adaptation introduces original songs to accompany your journey through a fantasy island.

Dance & Music Highlights
Primal rhythmic energy and the impossible union of opposites: Tandava sees the coalescence of Scottish guitarist Simon Thacker's startlingly passionate sound-worlds with the infinitely expressive physicality of three gifted dancers from India's Piah Dance Company. Part of the Made in Scotland showcase.

The Aretha Franklin Story is back at Edinburgh Fringe by popular demand, with Cleopatra Higgins of 90s girl group sensation Cleopatra, returning with the Night Owl band to take you on a journey through the life and music of the Queen of Soul.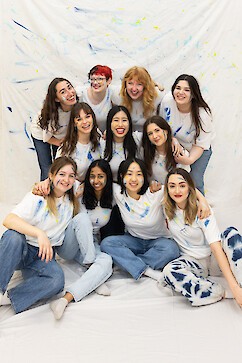 There's the largest a cappella line-up at the Fringe, featuring eleven of the finest a cappella groups from the UK: A-Catastrophe!, Aca-sino Royale, Aca-ting Out, Aca-Villa: The Love Island Musical, Athena, Cadenza, Northern Lights A Cappella's 10th B'day Bash: Top of the Bops, The Notebook, Soundtrack of a Breakup, SUSPS: The A Cappella 'Friends' Show and Sweet Nothings Present: Murder on the Stage Floor

David Rivera and La Båmbula will make you dance with their Caribbean sounds from Puerto Rico and Cuba. The 13-piece band is the first-ever Puerto Rican band to perform at the Fringe. Join 2 Guys, 3 Drams: The Ultimate Live Blues and Whisky Experience as they play some stomping blues music and serve you three superb Scotch whiskies.

Vox Stars, winners of the Spirit of the Fringe Award 2022, are back with Vox Stars Presents Star Inspirations celebrating aspiring singers through the music of their idols in a wonderful mix of iconic, popular music hits from legends and divas, retro, pop, disco, party, Disney and film.
Charles Pamment, Artistic Director of theSpaceUK, said:
"As we celebrate our 28th year of presenting work at this wonderful festival it's with great pride and excitement that we can invite you to spend some time in August seeing work across our venues. As ever we offer the festival's largest new writing platform and we're very proud to be the venue known for harnessing grass roots performance, for identifying that award winning 'gem' and presenting a diverse programme packed full of emotive, challenging, entertaining and brilliant work from across the globe.
Our 2023 programme bleeds diversity with work from every genre representing a wide range of themes and by artists from some 15 different countries including Cyprus, Kenya, Puerto Rico, India, Germany and China.
New for this year we introduce and embrace edfest.com .The ticket platform will represent the most significant group of venues at the modern fringe and runs alongside the ed fringe box office and app giving our audiences a wider opportunity to tap into the best ticket deals possible!
theSpaceUK experience is how the Festival is meant to be seen, every genre of live performance in one spectacular programme, we thrive on our focus on giving audiences choice but to also challenge and encourage them to delve into experiencing work beyond their own norm. Our bars are bustling and full of like-minded and excited souls comparing notes, ideas and reviews. This really is where gems emerge, It's up to you if you want to discover them.
I look forward to seeing you in and around our courtyards in August!"