Front of House Assistant
Dates: Tuesday 1st August to Sunday 27th August 2023
Our team of Front of House Assistants are the first faces our audiences see upon entering our venues.

You and your team will be responsible for guiding the audiences into the correct theatre at the correct time. There will be some queue management, helpful guidance, advice about what similar shows could be recommended, and scanning tickets on admission. You'll also meet the companies performing in our venues, helping to ensure they get the best welcome as they arrive for their performances.
We're operating a small box office operarion so, if your venue calls for it, there will be shifts at the sales window where you will operate our ticket sales and credit card payment systems.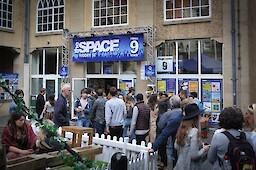 During downtime between performances, you'll help keep the front of house areas neat, tidy, appropriately furnished with flyers and posters and generally all looking ready to welcome the next audience in.

At the end of the Fringe you'll help our Venue Technicians with the get-out, closing up the box office, and generally returning the areas back to the empty rooms they started out as.
Sound interesting? Check out our Information Pack for more role information, testimonials from previous staff and pay details.